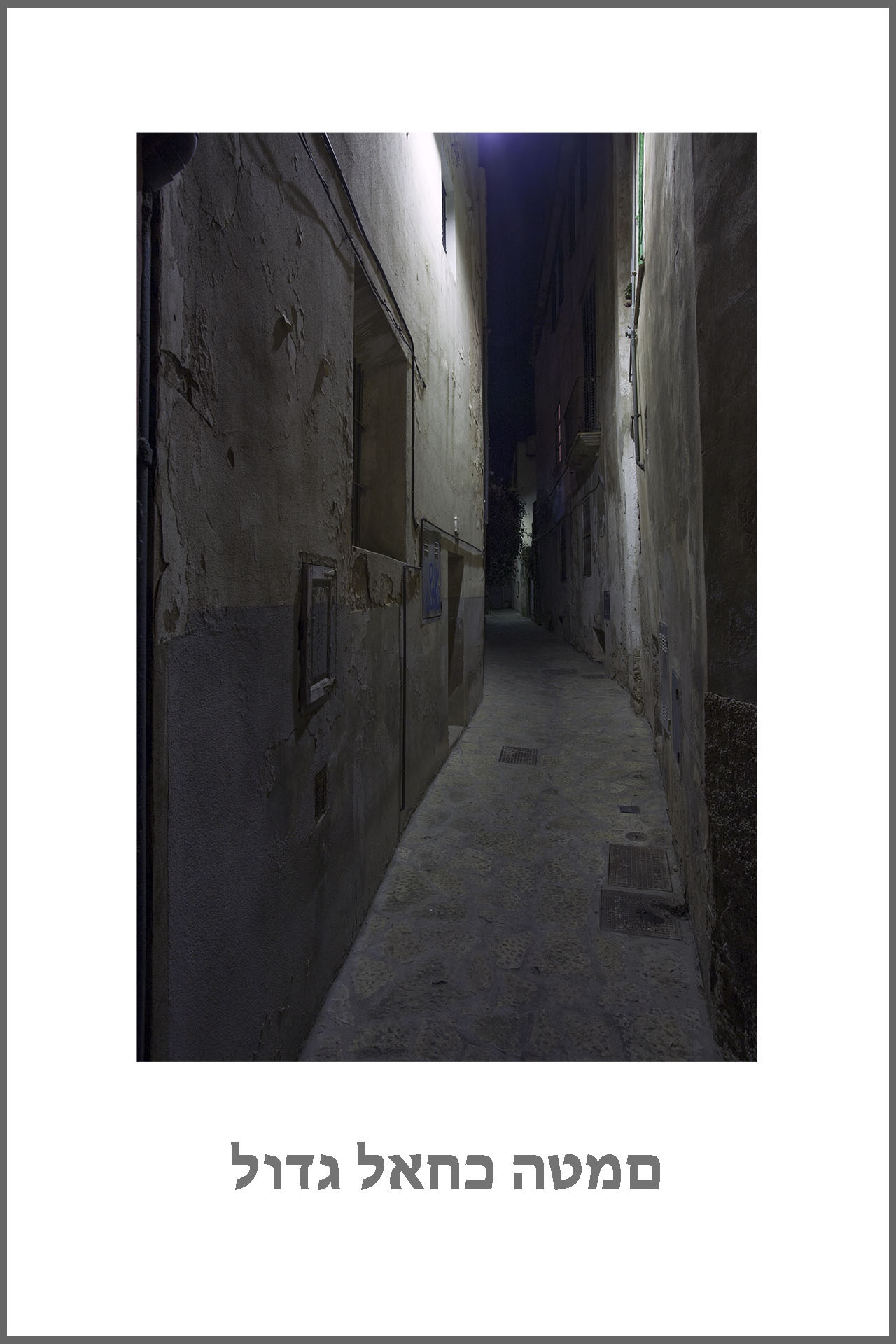 2012-2015 [Paisatges de la memòria] / fotografia digital / impressió digital i gofrat sobre paper Velvet / producció realitzada en els Tallers d'Obra Gràfica de Joan Miró de la Fundació Miró Mallorca
Passatge: 1. Acció de passar. 2. (Mus.) Transició d'un to a un altre. 3. a. Lloc per on hom passa. b. Carrer curt, galeria entre dos carrers, reservat als qui van a peu. (Gran Enciclopèdia Catalana, SAU).
Després de més de 1500 anys de presència jueva a la ciutat de Palma, a penes queden rastres materials apreciables d'aquesta cultura, si exceptuam els traçats urbans dels antics calls. Aquesta presència (in)visible just roman a l'inconscient dels seus habitants? O pot la fotografia captar l'acció de la memòria i la història sobre l'espai urbà? L'evocació visual com a eina per a la recerca de les empremtes fixades en l'imaginari col·lectiu i la seva projecció en l'espai físic.

================
Pasaje: 1. Acción de pasar. 2. (Mus.) Transición de un tono a otro. 3. a. Lugar por donde se pasa. b. Calle corta, galería entre dos calles, reservado a quienes van a pie. (Gran Enciclopèdia Catalana, SAU).
Tras más de 1.500 años de presencia judía en la ciudad de Palma, a penas quedan rastros materiales apreciables de esta cultura, si exceptuamos los trazados urbanos de las antiguas aljamas.¿Esta presencia (in)visible sólo permanece en el inconsciente de sus habitantes?¿O puede la fotografía captar la acción de la memoria y la historia sobre el espacio urbano?La evocación visual como herramienta para la investigación de las huellas fijadas en el imaginario colectivo, y su proyección en el espacio físico.
================
Passage. 1. Action of passing 2. (Music) Change from one tone to another. 3. a. Place through which one passes. b. Short street, pedestrian alley connecting two streets, (Definition from Gran Enciclopèdia Catalana, SAU).
Despite the fact that there was a Jewish community in Palma for over 1,500 years, there scarcely remain any appreciable traces of their culture, exception made of the urban layout of the erstwhile Jewries. Does this (in)visible presence only linger on in the unconscious of the inhabitants?
Or can the photographer capture the action of memory and history engaging with an urban space? The visual evocation as a tool to investigate the tracks fixed in the collective imagination and its projection in a physical space.